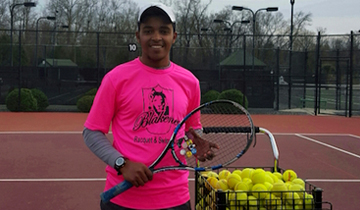 Samuel Kidane
Tennis Professional
Who is Samuel Kidane?
I am the first child of my family to be involved in Tennis with the support of everybody around me. My early childhood was spent playing soccer until the age of sixteen then I focused on tennis only. I have played competitive junior tournaments in and outside of Eritrea. I played in south African tennis academy for three years before I moved to United States of America in summer of 2013. It is here where I get to manifest my passion for coaching. I am officially PTR certified tennis coach for the age of ten and under as well as  seventeen and  under age group players.  I am currently a student at University of North Carolina at Charlotte enrolled in Computer engineering program.
What kind of Coach are you ?
I am very easily approachable and caring coach.I am optimistic and encouraging. I love asking random questions to create open atmosphere for understanding the game. I focus on creating a situation for my players to understand the technique and strategic aspect of the game. In addition to that, I love to witness the transformation of my players as they progress.
What do you want people to know about you?
I want people to know that I am fully dedicated into providing my best quality of service on and off the court. My highest goal in life is to make positive impact in someones life. I love to see people succeed.
Thoughts about working in Blakeney?
I consider myself lucky to be working  in such positive and refreshing environment. I enjoy every second  spent on court, gym and Pro's office. I would like to take this chance to thank Berhe Serekeberhan the Director and Founder of Blakeney Raquet and swim for giving me the chance to be part of the stuff. I enjoy contemplating the Idea of contributing towards something good at this stage of my life.