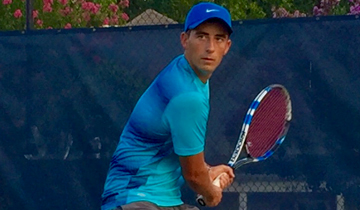 Aritz Eceiza
Tennis Professional
Who is Aritz Eceiza?
Aritz was born in Spain, and started playing tennis at age of six. However even before that, he always remembers having a racquet in his hands.  Aritz played tournaments for 12 years at various levels, and was a part of the Barcelona University team,  attending the national championship in 2015. At age 16, Aritz started his coaching career and obtained certification to teach in Europe with the L2 Europe Tennis Association. Although a small country, Spain has hosted many top international players, and produced several top 10 players including Rafael Nadal, David Ferrer and Garbine Muguruza. This extremely competitive environment allowed Aritz learn the final technique on how to teach juniors to reach the next level. He is currently a 4th-year Sport Science Student and is specializing in junior players' development. He moved to the United States in January 2016, first living in Arizona before settling in Charlotte.
What kind of coach are you?
I like to teach the players practicing in the court, keeping intensive hitting and correcting the gaps by the example. My specialty is the backhand shot where I feel really good closing points. The match tactic and strategy is one field where I like to work to reduce players' weaknesses and improve their strengths.
Thoughts about working at Blakeney?
After working in different clubs in Spain, Ireland, and the USA, I can say that Blakeney is a very professional environment. I feel I can develop my career in helping junior players achieve their goals here, while at the same time enjoying a friendly atmosphere where everyone feels like a member of Blakeney family.