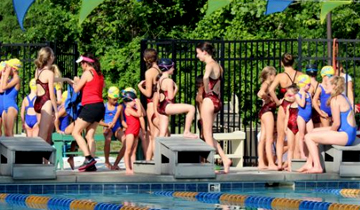 SWIM TEAM
The Blakeney Lion Fish Swim Team  strives for excellence in all aspects pertaining to competitive swimming.  The focus for all its members will be the improvement of swimming techniques, team work, sportsmanship, and the development of strong and positive character.  Lion Fish will also teach its members the importance and the practice of maintaining a positive attitude, discipline and preparedness in a fun and encouraging atmosphere.
Team Goals:
To learn and exercise good fitness practices
To build camaraderie amongst its members and community
To promote fair play in competition
To improve swimming techniques
To gain leadership through experience
To give encouragementTo uphold integrity of the team and individual
To take on responsibilitiesTo show respect and etiquette, and
To give strong and consistent effort
Blakeney Lion Fish Swim Team is designed to give youths valuable lessons by way of competitive swimming, which its members can then utilize for reinforcement of self-confidence and thus achieve success in their pursuits.
Parental Participation: In order to have a great swim program, one parent of a participating child is required to volenteer throughout the swim season. Volenteers will be used at meets, practices and swim social gatherings. We will be giving in house training for all volenteer specific job.
Age Group: The age group at which the swimmer compete is determined by your childs age by May 31. All students up the age of 18, who are still in high school or just graduated are eligible to compete in our swim team. The following is the age break down for the swim teams.
Ages 6 and Under (aka "Shrimp"): Swimmers on this age group must be able to swim 20 feet unassisted length before practices start. Swimmers will swim one length of freestyle, but their results are not scored part of swim meet. Ribbons will be given to top 4 finishers and participation ribbons for all others.
Ages 8 and Under: Swimmers on this age group must be able to swim full length of the pool freestyle, and also show other capability of one other stroke.
Ages 9 and 10: Swimmers on this age group should be familiar with all strokes (freestyle, backstroke, breaststroke, and butterfly). Swimmers can also enter on the individual 100 meter event. Your child does not have to be good in all strokes at the division 6 level. The goal is to grow swim team participation with the GCSL and have your child enjoy swimming in a great team atmosphere.
Ages 11 and up: Swimmers on this group have same requrements as 9 and 10 but must swim 2 length of the pool (50 Meter).
Team Uniform: We will have swim team uniform available before the team team practices start.
SWIM TEAM PRACTICE SCHEDULE AND MEET DATES: posting soon