Blakeney Tennis Academy
BLAKENEY TENNIS ACADEMY
Berhe Tennis Academy is reviving its past tennis expertise by helping train elite junior athletes who played at top colleges and universities in the United States. Combining a long history of success with new tennis methodology, Blakeney Tennis Academy (BTA) will be offering full-time tennis with an on-line based learning school.  Thanks to dedicated teachers in the classroom, the students will receive an excellent education while gaining the time and flexibility to train and develop as tennis players. The program will include fitness, nutrition, strategy and mental toughness to help our devoted student athletes excel both on and off the court.
Our academy program is multifaceted; providing tennis coaching/mentoring, intense training, scheduling of appropriate tournaments, and academic instruction. The performance plans may require attention to diet and nutrition, academic achievement, tennis success goals, time management and developing winning attitudes. BTA has a rigorous schedule with on-court instruction, match play, physical activities, tournament travels and academic studies.
In the classroom, students will master accredited, college preparatory, on-line courses (North Carolina Connections Academy or private school CMASAS ) with the help of our dedicated academic staff. CMASAS is partnering with our academy to offer students special pricing unique to our program participants.
Our BTA students travel to many tournaments together, helping foster a close-knit environment.  Each student athlete and coach are key members of our team. Tennis can be an isolating sport, and we value the importance of giving our athletes a strong sense of community.
If you are interested in learning more about our full-time academy, please contact Berhe berhe@blakeneyclub.com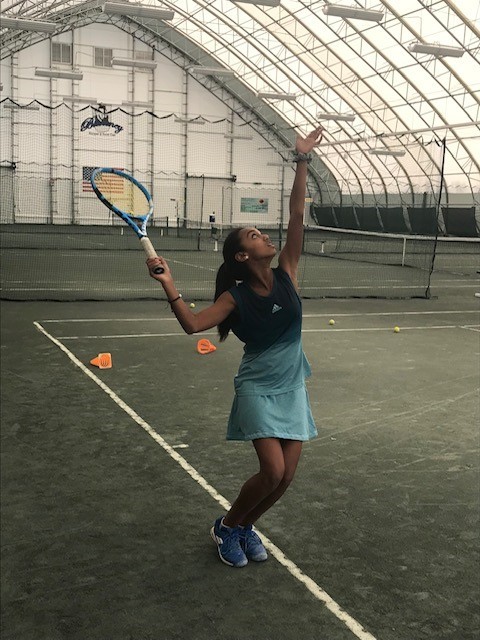 PROGRAM DAILY SCHEDULE (8:00 AM-4:30 PM)
8:00AM-10AM TENNIS DRILLING
10AM-130PM SCHOOL CLASSROOM-15-minute lunch part of the school break. Classroom is monitored by adult staff to make sure kids are getting their work done and get help if needed.
130PM-230PM FITNESS PERFORMANCE TRAINING
230PM-430PM TENNIS SESSION 2 MATCH PLAY, STRATEGY, MENTAL THOUGHNESS
BTA TUITION/FEES (9-month program – Mon – Fri 8am – 4:30pm)
Full Day Academy
Yearly: $13,000.00
Down Payment : $3250.00 Balance spread over 11months at $886.36/month.
Half Day Academy Morning Session (9-month program – Mon – Fri 8am – 2:30pm )
Yearly: $7,500.00
Down Payment : $2,500.00 Balance spread over 11months at $454.55/month.
Half Day Academy Afternoon Session  (9-month program – Mon – Fri – 1:00pm – 4:30pm)
Yearly: $6,000.00
Down Payment : $1,750.00 Balance spread over 11months at $386.36/month.
Fees for tournament travel, and online school, Academy tuition are all separate from BTA tuition.
*summer months students will be offered training by week to week bases.
Additional Fees
Blakeney club membership is required
The Blakeney Tennis Apparel Package is mandatory each year for all students. The package includes a wide variety of product not limited to hoodies, t-shirts, long sleeve t-shirts, sweatpants, tank tops, hats, and bags.
Cost: $350.00
Come and join our highly achieving students and let's make history together by raising the next generation of tennis players and assist them to greater heights.  We are 100% committed to the kids success and it will be well worth the investment.